Menudo is an ethnic dish that has its roots firmly planted in peasant food heritage and poverty.In pre-revolution Mexico,poverty amongst the campesinos was chronic and little if anything that might be prepared as food was left to waste.Usually,the best cuts of meat would go to the hacienda owners while the offal went to the peons.These leftovers consisted of organ meats,brains,head,tails,hooves, etc. Inventive peasant cooks created a soup that made good use of one of the major leftovers:the stomach.As cattle and sheep are ruminants that require lengthy intestinal tracts to digest their diet of grasses and raw seeds, the stomach is one of the largest pieces of offal available from these animals.
Classic menudo is basically a slowly cooked stew of tripe infused with several varieties of chile peppers and spices.It is presented as a soup and typically is served with corn tortillas or white bread rolls(bolillos),and almost always includes grains of corn.There are a number of variations including blanco(white/clear),verde(green),or rojo(red).Typical condiments added to menudo are dried oregano,ground chile flakes,lime juice,and chopped onion.Due to the length of time needed to cook tripe to be tender enough to be edible, menudo is generally cooked in large batches and sold as a special menu item in Mexican restaurants, although it is occasionally prepared at home. In some areas menudo is sold as a weekend-only specialty in regular restaurants (typically announced by signs reading Menudo fin de semana), in other areas, menudo is made daily, but mostly sold in restaurants and market stalls (fondas) that specialize in the dish.
In northern Mexico,typically hominy(creation of hominy is one step in the production of tortilla dough)is added,and in northwest states such as Sinaloa and Sonora usually only the blanco,or white,variation is seen.Adding patas (beef or pigs feet)to the stew is popular but not universal.In some areas of central Mexico,"menudo"refers to stew of sheep stomach, "pancitas"stew of beef stomach.The red variation is usually seen in Chihuahua,the northern state adjoining Texas. A similar stew made with more easily cooked meat is pozole.The popularity of menudo in Mexico is such that Mexico is a major export market for stomach tripe from US and Canadian beef producers.Large frozen blocks of imported menudo meat can frequently be seen in Mexican meat markets.The word "menudo" in Mexico can mean the raw stomach meat as well as the stew.The word tripas normally refers to the small intestines rather than the stomach.Tripas are also eaten, but normally in tacos.
Menudo also refers to an entirely different dish made in the Philippines.This dish,in contrast, is made of garlic,onions,diced pork chops,pork liver,diced potato,green bell peppers,soy sauce and tomato sauce,and seasoned with salt and pepper while it is cooked.Mexican menudo uses tripe as a primary ingredient while Filipino menudo includes pork pieces but also includes liver as an ingredient.Both stews present a red color,one from tomato and the other from red chili and both contain other small sized vegetables.No documented origins of the Filipino stew is available.However,due to the Spanish influence in the Philippines during the rule of the country,many Filipino foods are similar to Spanish dishes.The word menudo,from the Spanish to English translation,means small, little,petite,or fine.Menudos,when translated from the Mexican language,translates to "giblets" as well as "tripe stew."
Filipino Menudo is a rich dish with sauce thickened and flavored by a complementing mixture of condiments and relishes.This hearty dish does not require the extra trip to an Asian store to purchase an ethnic food variety because all the ingredients are common to any culture.Meat and potato,a regular table meal,are the main ingredients;and all the other ingredients are within easy reach in ordinary supermarkets. Menudo is a recipe which has several varieties,mostly pork and liver.It is an old-fashioned recipe that Filipinos have inherited from their Spanish colonizers.Because of the mixture of ingredients that make this dish exceptionally delicious,it has become a special dish normally served for special occasions like fiestas,weddings,birthdays and many others.Restaurants,carinderias and caterers also find this recipe as one of the most sought-after dishes on their menus.
I grew up practically knowing Menudo as a special dish.I am very fond of it either.During occasions I would always include Menudo on my list because of its taste and versatility.Some older ones would prefer this with beer, gin or whisky.The children love Menudo with rice especially if it has slices of hotdogs included.Others like me,we love Menudo with white bread and the best characteristic of Menudo,it can also last longer,just keep it in a glass container and set aside in the fridge and it will last for a week.I have a friend who I remember,his great grandmother would cook menudo and the shelf life would last for months,wow!I wish I can do that.
Ingredients:
600 gms pork shoulder butt cut into small cubes
2 tbsp light soy sauce
1 tbsp rice wine
2 tbsp all purpose flour 
150 grams pork liver cut into small cubes(optional)
1 tsp apple cider vinegar
1 tsp light soy sauce
1 can whole tomato chopped
1/2 cup beer
3 cups chicken broth
3 tbsp tomato sauce
1/2 cup chopped onion
6 cloves garlic grated
2 large Chorizo Bilbao sliced in a round like rings
3/4 cup potato cut into small cubes
3/4 cup carrot cut into small cubes
1/2 cup chickpeas
1/2 cup red bell pepper cut into cubes
1/2 cup raisin
1 to 1 1/2 tsp salt
1 to 2 tsp fish sauce
1 1/2 tsp ground white pepper
1 tsp paprika
1/4 tsp oregano
1 bay leaf
1/4 cup cheddar cheese grated
1/4 cup olive oil + 2 tbsp +2 tbsp
In a bowl combine the meat,soy sauce,rice wine and cornstarch.
Mix until well combined and marinate for 3 hours.Set aside in the fridge.
In another bowl.combine pork liver,apple cider vinegar and light soy sauce.
Mix well and set aside in the fridge.
In a sauce pan,heat 1/4 cup olive oil and brown the meat.Set aside
Using the same pan,add 2 tbsp olive oil and fry the potato for 30 seconds.Set aside
Using the same pan,add 2 tbsp olive oil and saute garlic and onion.
Caramelize the onion then add 3 tbsp tomato paste.
Saute the mixture for 30 seconds and add the browned pork and slices of chorizo
Mix until well combined then…
Add the whole chopped tomato including the sauce,beer,paprika,oregano and bay leaf
Cover and simmer for 15 minutes then add 3 cups chicken broth.
Cover again and simmer for 30 minutes.
After 30 minutes,add the liver,potato,carrot,chickpeas,fish sauce,salt and pepper.
Cover and simmer for another 10 minutes then add  grated cheddar cheese,red bell pepper cubes and raisin
Check the taste and simmer for 10 minutes more.
Turn off the heat.Now ready to serve.
Note: My family is not a pork liver fan,so I did not add pork liver here but don't worry the taste is rather great without it.
Thats how we prefer our Menudo at home,with creamy, rich, red,thick sauce,the meat is soft and tender.The combination of veggies and spices makes the smell and taste ohhh sooo captivating.To me,this is one comfort food that I would love to cook.I feel so at home and satisfied after….
Hmmmnnn….my children and my husband prefers warm rice with menudo on top.They love the taste and oftentimes they ask for another serving.I thought of adding white sauce and cheese on top and then bake it.Oh my! its heaven in my son's culinary view..yeah, my son loves to indulge with food.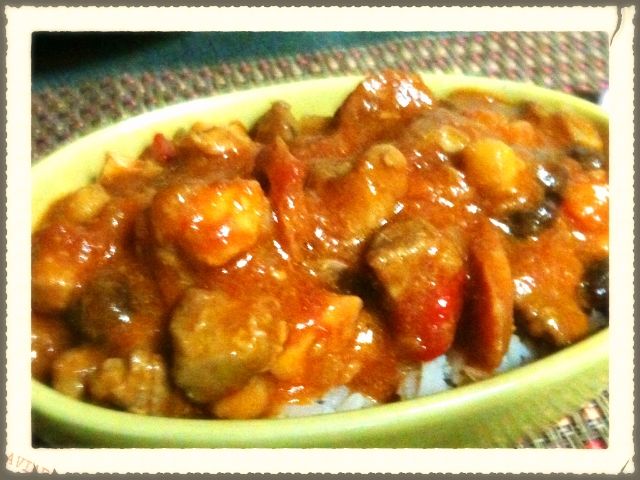 Welcome to Kocina De Pinay
Come and join me in my blog as I discover the world of Filipino Fusion Cuisine.These are all tried and tested recipes in my kitchen, a fusion of cuisines that intrigues me and my palate.Everything I write, post and share is a product of my exploration, my research, and done in my kitchen. Please Come in. Enjoy and Have a nice stay. You are all welcome.